Tummy tuck in  Pakistan is the most effective way of body contouring after massive weight loss or multiple pregnancies. It is a cosmetic surgical procedure for tummy fat removal along with the extra skin from the abdomen.
Tummy tuck in Lahore Pakistan or Abdominoplasty surgery, the belly muscles are repaired as they become lax after multiple pregnancies. Tightening of abdominal fascia with sutures creates a more toned look. The excess skin along with the belly fats can be addressed with tummy tuck surgery. Sometimes adjunctive procedures like liposuction of sides or front of the belly or other areas are part of the procedure.
LIPOSUCTION VS TUMMY TUCK ; WHICH OPTION IS BETTER ?
Liposuction treatment and tummy tuck (abdominoplasty ) are two different cosmetic surgery procedures both aim to change the body contour to give a much flatter, tighter and small abdomen.
 Indications for both the procedures are different. If you have small fat deposits in different areas of the body like the abdomen, arms, thighs, and love handles, liposuction may be a good option.
In addition, tummy tuck in Pakistan is considered in the patients having both excess fats and skin.
Prerequisites for a tummy tuck are:
BMI below 30.
Not considering getting future pregnancy.
No co morbid conditions.
Done with exercise and dieting plan.
WHY TUMMY TUCK SURGERY OR ABDOMINOPLASTY IS DONE?
There are multiple reasons you might have excess fats, poor elasticity of the skin, and weaken connective tissue of the abdomen.
If there is excess skin and stretch marks over tummy that doesn't go with the exercise or dietary regimen..
If you have got excess weight loss or pregnancy that effect the shape of abdomen.
If you feel that your protruding abdomen is unattractive.
If your lose your self-confidence by the shape of your stomach.
ADVANTAGES AND DISADVANTAGES OF TUMMY TUCK
          PROS:
It will restore a flat tummy
You will look smart in your clothes and swim-wears.
More smart and young look
CONS:
There will be a scar in bikini area.
Another pregnancy may halt results.
Weight gain after surgery has bad effect on results.
ARE YOU A GOOD CANDIDATE FOR TUMMY TUCK:
If your dietary regimen and weight loss exercises are failed to get the desired shape of your body and not changing the appearance of saggy and protruding abdomen. The following are some common reasons why you may want to consider a tummy tuck or abdominoplasty
Increasing age, hereditary, pregnancy ,previous surgery or weight fluctuation cause you excess abdominal skin and abdominal fat or causes abdominal muscle wall weakness or both.
Smoking always have an adverse effects on healing, which increases the serious complication during and after abdominal skin and abdominal fat removal. If you smoke, you must quit at least six weeks before surgery.
If you got stable weight for 6 months at least. Smart and slim individuals with extra fats in abdominal and excess skin over lower tummy, these are the best candidates for abdominal fat and abdominal skin removal. Always keep on thing in mind, tummy tuck surgery or abdominal skin removal are mot the procedure for weight loss..
In male patients or even in some female patients if there is visceral fats or internal fats around organs. You may need some weight loss procedure before undergoing tummy tuck surgery.
You are physically healthy. You must be in relatively good physical shape to tolerate this procedure.
You are finished having children. The muscles that are repaired during an abdominoplasty can separate again during future pregnancy.
Internal or external scars from any previous abdominal surgery may also affect your candidacy.
If you are in good general health, have a positive attitude and realistic expectations, you are most likely a good candidate for this procedure.


Tummy tuck treats stretched out abdominal skin.
After surgery, you will have a firmer, flatter abdomen.
HOW IS A TUMMY TUCK PROCEDURE PERFORMED?
In this surgical procedure, your surgeon will remove extra skin along with the fats from the tummy.
Tummy tuck surgery is performed under general anesthesia. 
Your surgeon will mark your abdomen to indicate the location of the incisions, the center of your torso and the location of the repositioned navel. Incision marking which shows the final scar location can be modified with the patients will. Your surgeon will guide you about the hidden location of scar under panty or bikini area.
A solution of lidocaine (a local anesthetic) and epinephrine (a vasoconstrictor that controls bleeding by constricting blood vessels) will be injected along the line of scars.
The primary tummy tuck incision will be above the pubic mound, from one hipbone to the other. In a full abdominoplasty, another incision is made around your navel. In a mini-tummy tuck, your surgeon will use a shorter incision.
The surgeon will loosen the skin from your abdominal wall to your ribcage and then place sutures in the fascia of your abdominal muscles to pull them into a tighter position. This is the muscle repair portion of the surgery, which is call abdominal muscle plication.
After repeated pregnancy ,rectus muscle will divaricated which needs plication for better contour of tummy.
After your abdominal muscles have been sutured, your surgeon will remove excess fat by liposuction or other methods. Your abdominal skin is then stretched down over your incision line and the excess skin is removed.
Next, your surgeon will mark the placement of your navel. Although the skin around your navel has been moved, the navel almost always stays in the same place. Your surgeon cuts a hole through the re-draped skin and sutures it around your navel.
Your surgeon will use sutures to close the incision.
In a full abdominoplasty, the surgeon will often insert one or more drains to prevent fluid buildup, which can cause pressure on the incision. The drain are suction assisted drains which automatically sucks the accumulated fluid by itself.
Drains will be accessed by the surgeon on next day for  removal. You can stand with bended back and can have a walk slowly with the help of assistant.
The goal of your aesthetic plastic surgeon and staff is to help you achieve the best results and to make your surgical experience as easy and comfortable as possible.
TYPES OF TUMMY TUCK / ABDOMINOPLASTY :
Standard Abdominoplasty
Mini Abdominoplasty
Extended Tummy tuck
Fleur-de-lis Abdominoplasty
Before tummy tuck you might also need to
Stop smoking
Stops certain drugs like Aspirin, anti-inflammatory or herbal medications a week before.
Maintain stable weight for at least 6 months or more.
Seroma formation
Infection
Bruising
Scarring
All these complications can be easily dealt with. It is a safe procedure in the hands of a competent plastic surgeon.
 CARE AFTER TUMMY TUCK SURGERY :
Tummy tuck surgery and Abdominoplasty surgery has a downtime of around 7 to 10 days. Usually, Abdominoplasty surgery requires admission for one or two nights. There will be dressing and binders. Drains are put for few days. The stitches are absorbable. You can also remove dressings and take shower on the 5th day.
You can resume your desk job in 10 days. Start your light exercise at 3 weeks and also normal exercise at 4 weeks.
SELECTING A SURGEON
Select a surgeon you can trust
It's important to choose your surgeon based on:
Education, training and certification
Experience performing tummy-tuck surgery
Your comfort level with him or her
After finding a board-certified plastic surgeon in your area who is experienced in performing tummy-tuck surgery, you will need to make an office appointment to set up your consultation. Generally, because of the in-depth nature of the consultation.
You can find about tummy tuck cost ii Lahore and tummy tuck cost in Pakistan. You can also inquire about the tummy tuck alternatives can also compare the prices or tummy tuck costs near you.
If you have a C-section scar, you will be allowed to ask about a tummy tuck after c section and also about the advantages of abdominal skin removal and scar excision.
YOUR TREATMENT PLAN
Based on your goals, physical characteristics, and the surgeon's years of training and experience, your surgeon will share recommendations and information with you, including:
An approach to your surgery, including the type of procedure or combination of procedures.
The outcomes that you can anticipate.
Your financial investment in the procedure.
Associated risks and complications.
Options for anesthesia and surgery location.
What you need to prepare for your surgery.
What you can expect to experience after surgery.
Show tummy tuck before and after photos of cases similar to yours and answer any questions.
WHAT CAN I EXPECT ON THE DAY OF TUMMY TUCK SURGERY?
Your tummy tuck surgery may be performed in a hospital. Your surgeon will give you an estimate of how long your surgery will last based on the details of your surgery.
You will receive medications to keep you comfortable during the surgical procedure. Local anesthesia combined with sedation may be an option or you will receive general anesthesia. An anesthesiologist or nurse anesthetist will be present to administer sedatives or general anesthesia and assist in monitoring.
For your safety during the surgery, various monitors will be used to check your heart, blood pressure, pulse and the amount of oxygen circulating in your blood.
Your plastic surgeon will follow the surgical plan discussed with you before surgery. Once the surgery has begun, he or she may decide to combine various techniques or change a technique to ensure the best result. It is important that you feel comfortable and trust your doctor to make these decisions.
The surgical dressings used will depend on the procedures you undergo. Surgical drains may also be placed.
After surgery, you will be taken into a recovery area, where you will continue to be closely monitored.
Before leaving for home, you (or someone looking after you) should feel comfortable emptying and resetting your drains.
You may go home on the day of surgery or spend one or two nights in an aftercare center with a nurse, unless you and your plastic surgeon have made other plans for your immediate post-operative recovery. * Under no circumstances will you be permitted to go home alone or stay home without another adult present. Follow your doctor's recommendation in relation to this decision.
HOW LONG WILL THE RESULTS LAST?
Until you get pregnant again or gain significant weight, your results should be permanent, although plastic surgery will not prevent the effects of normal aging.
Once the skin is tightened, it will get a little looser as you age, but not much. However, if you gain and then lose a large amount of weight after a tummy tuck, the abdominal skin could stretch out again, negatively impacting the overall contour. Likewise, if you become pregnant your abdomen will loosen again. For this reason, it is best to wait until after you finish having children to undergo a tummy tuck. If you're planning to lose weight, do it before the surgery.
Maintain a relationship with your aesthetic plastic surgeon
For safety, as well as the most beautiful and healthy outcome, it's important to return to your plastic surgeon's office for follow-up evaluation at prescribed times and whenever you have any questions about your abdominoplasty healing and results.
TUMMY TUCK COST IN PAKISTAN:
Tummy tuck cost in Pakistan, Lahore ranges between 150 lac to 180 thousand. The cost of a tummy tuck depends upon the body weight and also upon the required amount of liposuction. It also varies with the type of tummy tuck surgery.
Tummy tuck surgery involves the removal of abdominal fat also abdominal skin removal.
You will need to keep your tummy tuck belt for almost 6 weeks. The tummy tuck belt price is also included in the package. Tummy tuck belt price in Pakistan ranges from about 10 to 15thousands.
 ABDOMINOPLASTY CONSULTATION :
For appointments and booking for tummy tuck surgery
For  consultation regarding cost and urgent appointments
 WHATSAPP  +92-317-8325003
TUMMY TUCK AFTER SLEEVE GASTRECTOMY:
Weight loss procedures involve gastric ballooning and sleeve gastrectomy. Weight loss results in excess skin and excess fats hanging down from the tummy. These patients always require a second procedure, that is tummy tuck for contouring of the abdomen.
 WHAT ARE EXPECTED RESULTS AFTER TUMMY TUCK :
After tummy tuck surgery, the results are considered permanent. Excess skin that is removed during surgery won't come back again unless fluctuation of weight or subsequent pregnancy stretches out the skin again.
Dr. Zain ul Abidin and Dr. Asma Ilyas are highly skilled and trained in body sculpturing techniques. To get the best results always take time to find qualified plastic and cosmetic surgeon.
TUMMY TUCK BEFORE & AFTER PICTURES :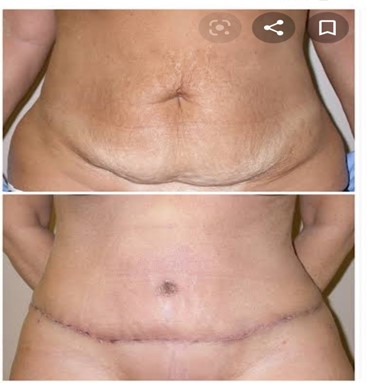 TUMMY TUCK IN RAWALPINDI / ISLAMABAD PAKISTAN :
We offer special packages to our valuable patients. Our surgeons Dr. Zain ul Abidin and Dr. Asma Ilyas tailor the procedure according to the patient's need.
We offer TUMMY TUCK OR ABDOMINOPLASTY Surgery services to our patients in Rawalpindi and Islamabad.
For details :
 Feel free to contact +92-317-8325003